FNG Fornes Logistics collected this award during the graduation ceremony of the business school.
ESERP Business School presented the award to FNG Fornes Logistics yesterday afternoon in recognition of its extensive experience in the freight transport sector, marked by a solid business strategy based on the importance of the customer service, in addition to the social work carried out in recent years.
The imposition of the medal took place during the official graduation ceremony of the students of the 2017/18 promotion that was held at the Real Club Náutico from Palma de Mallorca with the presence of the students, their families and the representatives of other companies and institutions that also received recognition: La Herramienta Balear, the Food Bank of Mallorca and José Albaladejo as founder of Yanko and Carmina Shoemaker.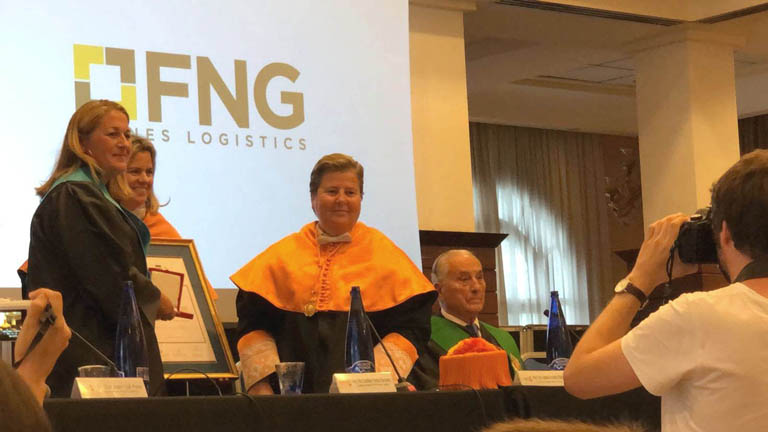 The CEO of FNG Fornes Logistics, Catalina Fornés, was responsible for collecting this award and wanted to highlight in her thank you speech the importance of women in management positions, especially in sectors such as transport that has traditionally been considered masculine. He also addressed a few words to the recently graduated students, to whom she recalled that the road to success is not simple but it is worth working hard and betting on the ideas in which one believes.
The event concluded with the interpretation of the Gaudeamus Igitur by the attendees and a toast in the terrace of the Real Club Náutico in a more relaxed atmosphere.